Biopolymix aims to bring beauty and cosmetics industry into a new era using biotechnology through the discovery, production and development of cosmetics and skincare products. We focus on bridging innovations in biotechnology to other fields, such as beauty industry to offer novel biomolecules, bio-ingredients, and technologies for natural beauty and cosmetics products. There is beauty in biotechnology. Biotechnology represents a great alternative tool for developing anti-aging and anti-wrinkles active ingredients, such as cell repairing and extra-cellular matrix boosters, moisturizers and antioxidants.
Major goal is to offer high-quality, medical-grade, biotechnology-derived products and cutting-edge technologies to improve the quality of life for people. Biopolymix provides you consulting and training services needed for beauty and skincare biotechnology in all levels from beginners to professionals. We are trusted to be your biotechnology partner in beauty and cosmetics industry.
Our products come from nature and biotechnology. They derive from plants and botanical extracts (such as Aloe Vera, seaweeds and medical herbs), animals (such as crab, lobster, shrimp), and microorganisms (such as Laminaria sp., S. cerevisiae, X. campestris). Biopolymix offers a wide range of high quality products and biotechnology-derived ingredients consisted of bio-macromolecules and life building blocks such as polysaccharides, proteins & peptides, glycoproteins, oils and lipids, vitamins and antioxidants, fatty acids, amino acids and so on. We believe that nothing is better than natural products and bio-ingredients for your skin. Vegetable oils are extremely beneficial for protecting skin from environmental stress and improving skin texture and preventing wrinkles. Herbal extracts are important ingredients to enrich many beauty and skincare products and offer miracle advantages such as anti-aging and anti-brightening effects.
Our products include clean and safe formulas without paraben, petrochemicals, hormone, silicone, synthetic-dyes and fragrances. They are non-comedogenic and hypoallergenic and suitable for all types of skin, especially for sensitive skin.
---
Soins de la peau et biotechnologie
Biopolymix vise à faire entrer l'industrie de la beauté et des cosmétiques dans une nouvelle ère en utilisant la biotechnologie à travers la découverte, la production et le développement de produits cosmétiques et de soins de la peau. Nous concentrons sur le rapprochement des innovations en biotechnologie vers d'autres domaines, tels que l'industrie de la beauté, pour offrir de nouvelles biomolécules, des bio-ingrédients et des technologies pour la beauté naturelle et les produits cosmétiques. Il y a de la beauté dans la biotechnologie. La biotechnologie représente un excellent outil alternatif pour développer des principes actifs anti-âge et anti-rides, tels que les réparateurs cellulaires et les boosters de matrice extracellulaire, les hydratants et les antioxydants.
L'objectif principal est d'offrir des produits de haute qualité, de qualité médicale, issus de la biotechnologie et des technologies de pointe pour améliorer la qualité de vie des personnes. Biopolymix vous offre des services de conseil et de formation nécessaires à la biotechnologie de la beauté et des soins de la peau à tous les niveaux, de débutant à professionnel. Nous sommes réputés pour être votre partenaire biotechnologique dans l'industrie de la beauté et des cosmétiques.
Nos produits sont issus de la nature et de la biotechnologie. Ils proviennent de plantes et d'extraits botaniques (tels que l'Aloe Vera, les algues et les herbes médicinales), d'animaux (tels que le crabe, le homard, les crevettes) et de micro-organismes (tels que Laminaria sp., S. cerevisiae, X. campestris). Biopolymix propose une large gamme de produits de haute qualité et d'ingrédients issus de la biotechnologie composés de bio-macromolécules et de blocs de construction tels que les polysaccharides, les protéines et les peptides, les glycoprotéines, les huiles et les lipides, les vitamines et les antioxydants, les acides gras, les acides aminés, etc. Nous pensons que rien de mieux que des produits naturels et des bio-ingrédients pour votre peau. Les huiles végétales sont extrêmement bénéfiques pour protéger la peau du stress environnemental et améliorer la texture de la peau et prévenir les rides. Les extraits de plantes sont des ingrédients importants pour enrichir de nombreux produits de beauté et de soins de la peau et offrent des avantages miracles tels que des effets anti-âge et anti-éclaircissant.
Nos produits comprennent des formules propres et sûres sans paraben, produits pétrochimiques, hormones, silicone, colorants synthétiques et parfums. Ils sont non comédogènes et hypoallergéniques et conviennent à tous les types de peau, en particulier aux peaux sensibles.
Product Description:
Biopolymix Anti-wrinkle Biocream (BAB) is a strong biotechnology anti-aging product used for reducing the appearance of facial lines and wrinkles from the inside, especially on forehead, crow's feet and around the mouth. It makes the face skin looks smooth and firm using key bioactive ingredients. This product includes key anti-aging peptides and Pseudoalteromonas sea ferment which stimulates synthesis of dermal proteins, such as collagen I, II, IV, fibronectin, hyaluronic acid and laminin. Hyaluronic acid deeply moisturizes the skin, leading to fresh and youthful skin. Vitamin E is a powerful antioxidant that helps repair damaged cells and support the immune system and skin health.
Benefits:
Reduce naturally the appearance of wrinkles and fine lines.
Targets the key visible signs of aging and wrinkles on the face, especially crow's feet, forehead, and around mouth over time
Visible improvement in elasticity and firmness
Help visibly smooth and brighten skin texture
Collagen booster
Stimulates synthesis of six dermal proteins including collagen I, II, IV, fibronectin, hyaluronic acid and laminin
Deep hydration and multi-peptide moisturizer
Easily absorb into skin
For all skin types, including sensitive skin
Can be used morning and night (preferably)
Safe and health
Direction for use: Apply a small amount of anti-wrinkle biocream gently with your fingertip to target wrinkles around forehead, mouth and eye crows feet. Can be used morning and night after cleansing your face.
Warning: Discontinue using the product if an allergic reaction, redness, skin irritation or discomfort occurs and consult a physician. Store refrigerated (2-8 °C). For external use only.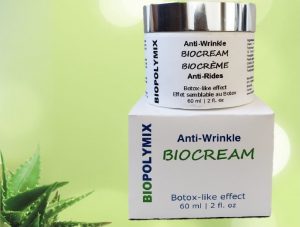 Biopolymix Anti-wrinkle Biocream Product.
Produit Biocrème Anti-rides Biopolymix.
Description du Produit:
Biopolymix Anti-rides Biocream (BAB) est un produit anti-âge biotechnologique puissant utilisé pour réduire l'apparence des rides du visage et de l'intérieur, en particulier sur le front, les pattes d'oie et autour de la bouche. Il rend la peau du visage lisse et ferme en utilisant des ingrédients bioactifs clés. Ce produit comprend des peptides anti-âge clés et du ferment marin Pseudoalteromonas qui stimule la synthèse de protéines cutanées, telles que le collagène I, II, IV, la fibronectine, l'acide hyaluronique et la laminine. L'acide hyaluronique hydrate en profondeur la peau, la rendant fraîche et jeune. La vitamine E est un puissant antioxydant qui aide à réparer les cellules endommagées et à soutenir le système immunitaire et la santé de la peau.
Avantages:
Réduisez naturellement l'apparence des rides et des ridules.
Cible les principaux signes visibles du vieillissement et des rides sur le visage, en particulier les pattes d'oie, le front et le pourtour de la bouche au fil du temps
Amélioration visible de l'élasticité et de la fermeté
Aide à lisser et à éclaircir visiblement la texture de la peau
Booster de collagène
Stimule la synthèse de six protéines cutanées, dont le collagène I, II, IV, la fibronectine, l'acide hyaluronique et la laminine
Hydratation en profondeur et hydratant multi-peptidique
Absorption facile dans la peau
Pour tous les types de peau, y compris les peaux sensibles
Peut être utilisé matin et soir (de préférence)
Sécurité et santé
Conseil d'utilisation: Appliquez une petite quantité de biocrème anti-rides doucement du bout du doigt pour cibler les rides autour du front, de la bouche et des yeux des pattes d'oie. Peut-être utilisé matin et soir après avoir nettoyé votre visage.
Attention: Cesser d'utiliser le produit en cas de réaction allergique, de rougeur, d'irritation cutanée ou d'inconfort et consulter un médecin. Conserver au réfrigérateur (2-8 ° C). Pour usage externe seulement.