Product Description:
Biopolymix Anti-wrinkle Biocream (BAB) is a strong biotechnology anti-aging product used for reducing the appearance of facial lines and wrinkles from the inside, especially on forehead, crow's feet and around the mouth. It makes the face skin looks smooth and firm using key bioactive ingredients. This product includes key anti-aging peptides and Pseudoalteromonas sea ferment which stimulates synthesis of dermal proteins, such as collagen I, II, IV, fibronectin, hyaluronic acid and laminin. Hyaluronic acid deeply moisturizes the skin, leading to fresh and youthful skin. Vitamin E is a powerful antioxidant that helps repair damaged cells and support the immune system and skin health.
Benefits:
Reduce naturally the appearance of wrinkles and fine lines.
Targets the key visible signs of aging and wrinkles on the face, especially crow's feet, forehead, and around mouth over time
Visible improvement in elasticity and firmness
Help visibly smooth and brighten skin texture
Collagen booster
Stimulates synthesis of six dermal proteins including collagen I, II, IV, fibronectin, hyaluronic acid and laminin
Deep hydration and multi-peptide moisturizer
Easily absorb into skin
For all skin types, including sensitive skin
Can be used morning and night (preferably)
Safe and health
Direction for use: Apply a small amount of anti-wrinkle biocream gently with your fingertip to target wrinkles around forehead, mouth and eye crows feet. Can be used morning and night after cleansing your face.
Warning: Discontinue using the product if an allergic reaction, redness, skin irritation or discomfort occurs and consult a physician. Store refrigerated (2-8 °C). For external use only.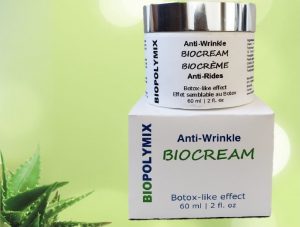 Biopolymix Anti-wrinkle Biocream Product.
Produit Biocrème Anti-rides Biopolymix.
Description du Produit:
Biopolymix Anti-rides Biocream (BAB) est un produit anti-âge biotechnologique puissant utilisé pour réduire l'apparence des rides du visage et de l'intérieur, en particulier sur le front, les pattes d'oie et autour de la bouche. Il rend la peau du visage lisse et ferme en utilisant des ingrédients bioactifs clés. Ce produit comprend des peptides anti-âge clés et du ferment marin Pseudoalteromonas qui stimule la synthèse de protéines cutanées, telles que le collagène I, II, IV, la fibronectine, l'acide hyaluronique et la laminine. L'acide hyaluronique hydrate en profondeur la peau, la rendant fraîche et jeune. La vitamine E est un puissant antioxydant qui aide à réparer les cellules endommagées et à soutenir le système immunitaire et la santé de la peau.
Avantages:
Réduisez naturellement l'apparence des rides et des ridules.
Cible les principaux signes visibles du vieillissement et des rides sur le visage, en particulier les pattes d'oie, le front et le pourtour de la bouche au fil du temps
Amélioration visible de l'élasticité et de la fermeté
Aide à lisser et à éclaircir visiblement la texture de la peau
Booster de collagène
Stimule la synthèse de six protéines cutanées, dont le collagène I, II, IV, la fibronectine, l'acide hyaluronique et la laminine
Hydratation en profondeur et hydratant multi-peptidique
Absorption facile dans la peau
Pour tous les types de peau, y compris les peaux sensibles
Peut être utilisé matin et soir (de préférence)
Sécurité et santé
Conseil d'utilisation: Appliquez une petite quantité de biocrème anti-rides doucement du bout du doigt pour cibler les rides autour du front, de la bouche et des yeux des pattes d'oie. Peut-être utilisé matin et soir après avoir nettoyé votre visage.
Attention: Cesser d'utiliser le produit en cas de réaction allergique, de rougeur, d'irritation cutanée ou d'inconfort et consulter un médecin. Conserver au réfrigérateur (2-8 ° C). Pour usage externe seulement.